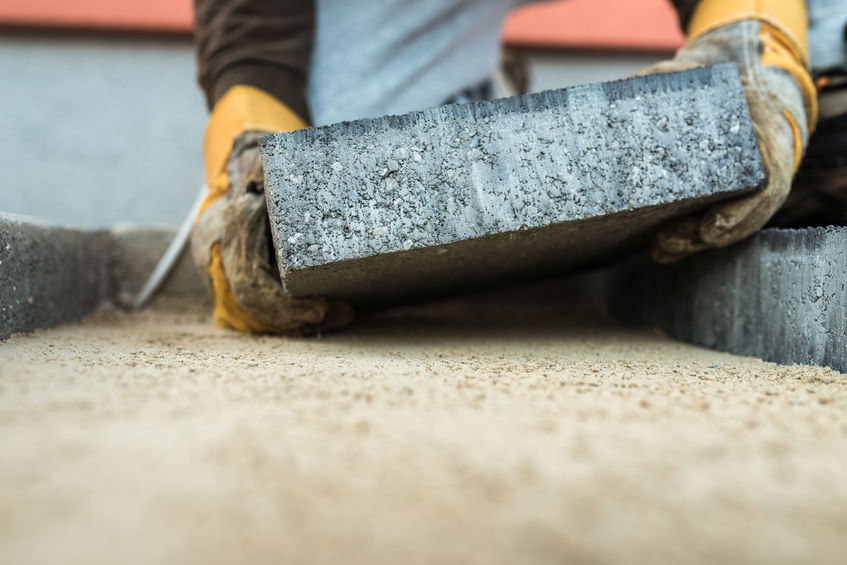 Year B, Easter 4, 2018 – Lay It On Down
Podcast: Play in new window | Download
Subscribe: Apple Podcasts | Android | Google Podcasts | RSS
Hello friends! The Fourth Sunday in Eastertide is traditionally Good Shepherd Sunday in the Revised Common Lectionary, as you'll see below. So you might be expecting a picture of sheep here, but instead here's someone laying stone. What gives? It's tied more to the Acts 3 passage for this week, wherein Peter tells the high priestly types that Jesus, whom they had crucified, is the stone foretold by the psalmist, rejected by the builders but made to be the cornerstone. Laying the foundation connected audibly with Jesus saying in John 10 that he lays down his life for the sheep. (See? The sheep showed up eventually.) In the 1 John 3 passage, we lay down our sin in the light of God's grace and lay down our claims of control in obedience to God's call to love one another. Whether you go with this theme to lay it down or the more traditional shepherding, we have a wealth of multiple intelligence illustrations and special effects for you to consider.
(And if you use this "laying it down" theme, you might want to check out Waylon Jennings' song, "Lay It Down," as a bit of Music Smart bonus material.)
This week's texts are:
Acts 4:5-12
[01:59]
This passage picks up at the end of the story of the man healed by Peter and John. The council has heard what happened and want to know what's going on. Peter lays it down for them. We did not use WORD smart in the podcast but the quote linked below gets at the heart of the conflict! Instead, we began with an EYE smart illustration of the healed man as a living before/after picture of transformation. If you choose to use the special effect, take care with your Google search parameters. For MATH smart, we look to construction principles to illustrate the importance of cornerstones. The Greek word sodzo can be translated into English in a variety of ways including the words "salvation" and "healing". For BODY smart, we link to an article that explores the connection between the two words for women's body images. Finally, in PEOPLE smart, we think the council is particularly perturbed to be challenged on their own turf and offer some other examples. David was reminded of a face one makes when an evil plan goes awry. See the link below!
1 John 3:18-24
 [12:01]
The author of 1 John lays down instructions for ethical living as God's children. We love, not by our speech or what we say, but by what we do and what shapes our hearts. The good news in this selection is that even if our hearts are heavy because of our conscience, God is greater than our hearts. In WORD smart, we compare this graceful reality to the end of A Christmas Carol where Bob Cratchit is stunned to hear Scrooge is going to raise his wages! David found a link about logical proofs for a MATH smart illustration and some experiments for a special effects that reveal how compiling evidence often works as proof. In BODY smart, we offer a link to the current champion of the Boston Marathon who trained her body to endure. Endurance is a common quality for faithful living. David wrote some new lyrics to an older tune for MUSIC smart. It is below – feel free to use it with attribution! In PEOPLE smart, we think the author is instructing believers to tune themselves so closely to Jesus that people will recognize him in us immediately. I have a story about an immediate recognition of family resemblance. And for SELF smart, use a tea bag to illustrate how pressure reveals our character.
Let us love, not just in word or speech,
But in truth and deed;
By this we know that we live in the truth.
Allelu, alleluia!

When our hearts condemn us for sin,
We can rest assured,
God, who knows all, is greater than our hearts!
Allelu, alleluia!

God welcomes us when we do as God commands.
What, then, must we do?
Love one another and trust in Christ the Lord.
Allelu, alleluia!
John 10:11-18 [22:01]
The fourth Sunday in Easter is Good Shepherd Sunday. Year B uses these verses where Jesus specifically speaks to what a good shepherd does. A good shepherd sticks around and if necessary, lays down his own life on behalf of the flock. The hired hands won't do that, and David thought of a scene in Ferris Bueller's Day Off  that illustrates this well in EYE smart! Make a poster for a special effect and at the appropriate time, lay it down. Sticking with that idea of value and worth, in MATH smart do some calculations and haul out the balance scales. In BODY smart, use the risks of pregnancy and childbirth as an illustration. Following on that example, in NATURE smart, we have some links to parenting in the natural world. Of course, we don't always act like the Good Shepherd; sometimes we are more like the hired hands, and we have some more examples of that behavior in PEOPLE smart. Finally, in SELF smart we have two stories of people's willingness to lay down their lives for someone they love.
---
Image Credit: Copyright: gajus / 123RF Stock Photo. Used by permission.
---