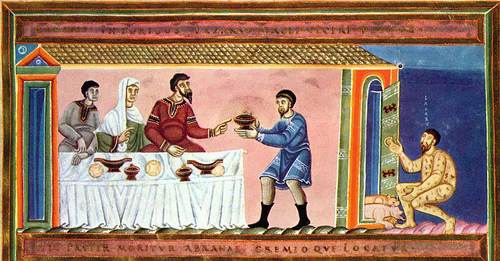 Year C, Ordinary 26, 2016 – Deeds and Trusts
Podcast: Play in new window | Download
Subscribe: Apple Podcasts | Android | Google Podcasts | RSS
Greetings!!  Welcome to More Than Hearing where, in spite of the title of today's post, we do NOT offer financial advice – believe me! Instead, we bring you sermon illustrations and special effects, and the three passages for this week's Lectionary selection provide plenty of both. In Jeremiah, the prophet provides a living parable by helping out some kin. Moss Hart and George S. Kaufman may have gotten the title for their play You Can't Take it With You from the 1 Timothy passage.  Luke continues to surprise and discomfit us with stories about wealth. Looking closely at all three selections, we see how people trust by their deeds. 
This week's texts are:  
Jeremiah 32:1-3a, 6-15  [timestamp]  – One commentary I read about this passage called it the worst land deal ever. No kidding! Jerusalem is about to be wiped out by the invading Babylonians – the horses of the cavalry can be heard snorting in Dan (8:16) and Jeremiah is buying land from his cousin. He goes through the entire proscribed ceremony of witnesses and seals and putting one copy in a safe place, too. As if he is going to ever claim this land – or might he? Jeremiah preaches a word of outlandish hope in the face of certain destruction. He is bold enough to do this because he knows the One in whom he hopes will not let destruction be the last word. In Word smart, we suggest keeping track of the words we use; are they words that build up or words that tear down? In Math smart, we look at the logic of Jeremiah's lived-out parable. We consider the properties of clay in Nature smart and have some questions for reflection and discussion in People and Self smart.
Primary Expressed Intelligence –

Molly thinks it is Math smart because the parable Jeremiah lives out is so very illogical to people who expect the world to operate in only one way. God's logic does not operate in ways we always expect nor often welcome. God's logic is always turning towards restoration and hope, which Jeremiah lives out by purchasing land at the worst possible time.

David thinks it is Eye smart. The public presentation Jeremiah goes through in buying the parcel of land is the sort of visual special effect we like to offer for you to use! Not only is it eye catching for people to watch him weighing out the money and putting the deed in a jar, but since it is a land deal, the watchers must think about space, where the land is — at that moment, it was under the feet of the Babylonian army!

Smarts – Word [time], Math [time], Nature [time], People [time], Self [time]

Jeremiah 32 worksheet   
1 Timothy 6:6-19 [timestamp] – Hmmm…. Stewardship season must be upon us based on the calculated words about wealth in the passage from 1 Timothy! Yet, rather than being used to "encourage" reluctant parishioners to part with a bit more of their money, the author of Timothy puts the love of money into terms of the eternal. Commentary on this passage remarks that the love and pursuit of wealth becomes detrimental when the slippery slope of Just A Bit More starts to avalanche and take over a person's soul. We examine this slide into the trap with a quote from GK Chesterton and a link to a room similar to what he may have referenced in Eye smart. The author of the passage stresses that the pursuit of wealth makes it difficult to live in a state of what Walter Brueggemann refers to as "continual doxology."  We have suggested an activity for a special effect in Body smart that might help demonstrate what he is talking about. We have two classic hymns in Music smart. The word for contentment in verse 6 has some roots in Stoic philosophy that we think reflects how water runs off the back of a duck which we look at in Nature smart. In People smart we ask how people can give significance to objects and have a clip from George Carlin talking about "our stuff" in Self smart.
Primary Expressed Intelligence –

Molly thinks it is People smart because of the ways relationships can either benefit or be harmed by a pursuit of wealth.  

David has chosen Self, pointing toward People. The passage has much to do with one's sense of contentment and alignment with the will of God toward others. So one must be aware of one's own motivations and desires, hence Self smart. The will of God is generally for us to be in right relationship with others, though, and so our Self smartness here points us toward others, hence People smart. Thus I have used "hence" twice in one paragraph.

Smarts – Body [time], Music [time], Nature [time], People [time], Self [time]

1 Timothy 6 worksheet   
Luke 16:19-31 [timestamp] – Unfortunately, the lesson Jesus attempts to teach about the way wealth can alienate people from one another has gotten lost in the obsessive questions about heaven and hell that this parable about a rich man and a beggar at his gate has generated through the centuries. That Jesus has named this man is significant to his theme, and we look at how names suggest relationships in Word smart. In Eye smart, we encourage you to paint vivid mental pictures of the gap between the two men in the parable – you could use great distances in nature to help illustrate it. As in the Jeremiah passage, the logic of our expectations regarding wealth are turned on their ear by Jesus as he presents God's economy, which we explore in Math smart. Body smart has a built in connection with the conditions of both men's bodies before and after death, and Music smart would be a poor thing without "Rock-a My Soul." We wondered about the alleged healing properties of canine saliva in Nature smart. (See below) We have some really wonderful stories that illustrate People and Self smart. (See below)
Primary Expressed Intelligence –

As with the Timothy passage, Molly thinks the Primary Expressed Intelligence is People and for much the same reasons. The interplay of people is the heart of this parable, especially as the rich man saw and responded to Lazarus in this world and the other one.

David agrees with Molly on this one. The hardheartedness (what a word!) of the rich man is the heart of the parable. He never understands Lazarus's worth as child of Abraham and a child of God, even when he is in torment. He never grasps the mercy of God and so has cut himself off from it. We, who have not only the Law and the Prophets but also the Gospel should learn the lessons therein and open our hearts to all God's children. (Oops, getting a little preachy there.)

Smarts – Word [time], Eye [time], Math [time], Body [time], Music [time], Nature [time], People [time], Self [time]

Luke 16 worksheet   
Links
… in Jeremiah  
A history of

clay

pottery

Some possible reasons clay may make a good

safe deposit

box
… in 1 Timothy 
… in Luke
1. Researchers in the Netherlands identified a chemical in pet saliva called histatins. Histatins speed wound healing by promoting the spread and migration of new skin cells.
2. Dr. Nigel Benjamin of the London School of medicine has shown that when saliva contacts skin it creates nitric oxide. Nitric oxide inhibits bacterial growth and protects wounds from infection.
3. Researchers at the University of Florida isolated a protein in saliva called Nerve Growth Factor that halves the time for wound healing.
Some stories that illustrate the parable, especially as they speak to relationships:
1 – Rev. Dr. Delmer Chilton: Lectionary Lab
I started my career as a pastor in three little churches in rural NC. Wood-frame buildings on isolated dirt roads, a few dozen farmers and shop-owners and their children and grand-children who drove out on Sundays from the cities to visit the folks and go to church. One weekday noon I went into a church member's place of business for lunch: Alvis Brigg's Bar-B-Q.
As I walked in, a Briggs grandchild, a boy about 4 years old, spotted me. He stood up in the booth where he was sitting and yelled out, "Hello . . . " and then he was silent, because he couldn't remember where he knew me from. He tried a couple more times, "HELLO . ." then silence and meditation, "HELLO . . " again, and more thoughtful silence. By this time everyone in the room was quiet and looking back and forth between the boy and me. Finally his face brightened and he shouted, "HELLO CHURCH!"
We are called to remember who we are as God's people, and to remember what we have to say and we are to say it and do it in such a way that when people see us coming, they will shout in their hearts, "HELLO CHURCH!"
2- William Horan, writing a comment to Amy Willis at Political Theology Today
A few weeks ago, I was walking into South Station in Boston when I noticed a man off to the side who looked rather lonely, but I figured that this is none of my business, so I kept walking until I heard a plea, "mister". I turned around and walked over to the man who then asked for money. I gave him a few dollar bills and felt that I did my good deed for the day. A few minutes later a young man approached me to ask for $10 in order to buy tickets for himself and his girlfriend to Maine. I gave him the $10 but I began to feel that this was going a little too far. I bought some Chinese food and sat down to eat when a woman came up to my table asking for money. I may not have looked very happy because she said right away that she was sorry to bother me because she was probably at this table before. I did give her a few dollars, but I was tempted to ask God if He expected me to feed every bum in South Station. I thought, however, I better not because He might tell me that He was one of those "bums".
3- Mark Scandrette, Creating Chasms, The Hardest Question
"A friend of mine recently told me about an experience he had. After the gathering of his faith community he walked outside to find a man begging for spare change. "What do you need the money for?" he asked. The man replied, "I'd like to buy a beer." "Sorry," my friend said, "I can't give you money for that." Then my friend went on to a pub down the street with his church friends and bought a round of beers for everyone. Reflecting on this incident he said, "I guess I felt justified judging the begging man, assuming that he was an alcoholic, even though I would never do that with my friends."