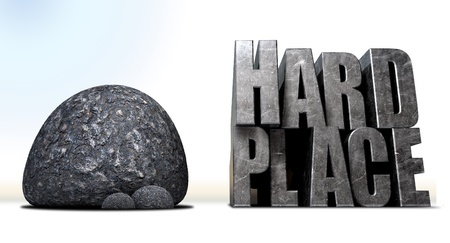 Year A, Ordinary 19, 2017 – A Rock and a Hard Place
Podcast: Play in new window | Download
Subscribe: Apple Podcasts | Android | Google Podcasts | RSS
Welcome back! Sometimes we face challenges and know it; the pressure surrounds us and threatens to overwhelm us, and we seem to have no good options. Other times, we walk into bad situations that in retrospect we should have seen coming. In the passages for today's Lectionary, Paul is hard pressed to bring two groups together in union with Christ, and the disciples in Matthew are working hard to keep their boat upright in a wind storm. In Genesis, Joseph walks right into the hornet's nest of his older brothers' resentment. In all three situations, the proverbial rock and hard place, while not specifically mentioned, are strong supporting players in the drama. Paul understands their presence and attempts to draw the tension away with a third pathway. The disciples are offered a mind-blowing way out when Jesus walks up to them on the water. Poor Joseph will not find a way out for a few more chapters but as he looks back over his life, he does see how God charted his course for him. As you decide how to present these passages to your congregations this week, name the rocks and hard places you and your people encounter, and be bold to proclaim that we have not been left to be crushed or swallowed up by them.
(This week's note on the sound quality: I think I got last week's noise out, but this week we had the windows open because it was a beautiful, cool, summer evening, so you might here the "peepers" from outside.)
This week's texts are:  
Genesis 37:1-4, 12-28 [01:59]  
For this Lectionary cycle, we only have two stories from the Joseph saga in Genesis; the beginning and the end. Today we witness the beginning where the teenaged Joseph is sent by his father to check on his brothers out tending the sheep. While this story can stand on its own, it is part of the larger story of Israel's history, and the subtext is always present. In EYE smart, we have some suggestions to illustrate how a small piece fits into a larger one. For special effects, we encourage use of our trusty maps and have links to pictures of what Dothan looks like in our era. We also have an idea that can translate into BODY smart if you don't have any Tinker Toys or Legos. Speaking of BODY smart, David found an interesting experiment illustrating how carrying around resentment is like carrying around extra weight. We did not list MUSIC smart as one of the intelligences we explicitly explore, but we can't zip past without mentioning Andrew Lloyd Weber's Joseph and the Amazing Technicolor Dreamcoat. The first three songs cover this episode, so if you can work them in somehow, that would be great for your Music smart people! Dysfunction is the word of the day – or decades – for this family; we have three links in PEOPLE smart to illustrate how messy it can really get. In SELF smart, we have a link to how resentment can effect one's body.
Smarts – Eye [03:24], Body [05:47], Music [07:34], People [07:51], Self [10:10]

Genesis 37 worksheet   

Links in Genesis   
EYE smart –

BODY smart – 

MUSIC smart –

PEOPLE smart –

SELF smart –
Romans 10:5-15 [11:27] 
The context of Paul's letter to the Romans cannot be ignored in this chapter. Due to Claudius' expulsion of Jews from Rome, the Christian sect that had been growing there morphed into a group that consisted mostly of Gentiles who were not entirely happy with Paul's reticence about cutting ties with his old identity as a Jew. On the other side, Jewish Christians were not happy that Paul was allowing these non-kosher believers into fellowship. He needed a third way solution in order to keep the Gospel moving. His rhetoric in this passage reminded David of the old proverb "For want of a nail," which we use in MATH smart. For a special effect in MATH smart, we have a link to a Gauss gun that demonstrates the increasing effect testimony can have. In MUSIC smart, we follow Paul's lead as he remixes Scripture into a song of praise about Jesus and discuss how if one's heart is not engaged by what you are singing, it's pretty obvious in the offering. In NATURE smart, we consider planet Earth's place in our solar system as a way to illustrate Paul's larger understanding of God's salvation. In SELF smart, we have some questions for individuals to ponder about what their hearts believe and their lips proclaim about Jesus.
Smarts – Math [12:54], Music [17:04], Nature [19:42], Self [20:45]

Romans 10 worksheet

Links in Romans   
MATH smart –

MUSIC smart –

Try writing a praise song or poem by combining the themes in these:
Matthew 14:22-33 [21:32] 
What new can be said about this story? I think D. Mark Davis has an intriguing interpretation that you can find at his site linked below. I found it quite compelling, which is ironic because in WORD smart, Jesus compels – or even forces – the disciples into a boat after the feast of bread and fish. Paying careful attention to the WORDS of a story can open up some truly fascinating interpretations. Go check it out. We did not mention EYE smart in the podcast, but like Jacob wrestling the man by the Jabbok last week, this story is a favorite for artists, and we have just a wee sample in the links. Jesus' dual nature of God and human gets center stage in this story, and we have an illustration in MATH smart using the particle/wave duality of light. We also look at the physics of walking on water – or Oobleck. We usually focus on Peter in this story, but what about Jesus and his reaction to what Peter is doing? In BODY smart we have two links to movies that might help you illustrate Jesus' response to what his most impulsive disciple is doing. Two gospel songs can preach your sermon for you in MUSIC smart. And in NATURE smart, we ponder the immense power of water and wind unleashed from their usual boundaries and how eerily calm Jesus is in the midst of it all. See the links below for some examples of what the Sea of Galilee might look like when it's storm tossed.
Smarts – Word [22:39], Math [24:35], Body [27:34], Music [29:45], Nature [30:09]

Matthew 14 worksheet

Links in Matthew   
---
Image credit: Copyright: albund / 123RF Stock Photo. Used by permission.
---